Newborn Portrait Sessions
A Newborn Portrait Session is the perfect opportunity to capture those precious first few moments of your new arrivals life. Those moments don't last very long and your newborn will soon be growing and changing every day, so make sure you book your session before the little one arrives so we can guarantee a spot for you within the first two weeks.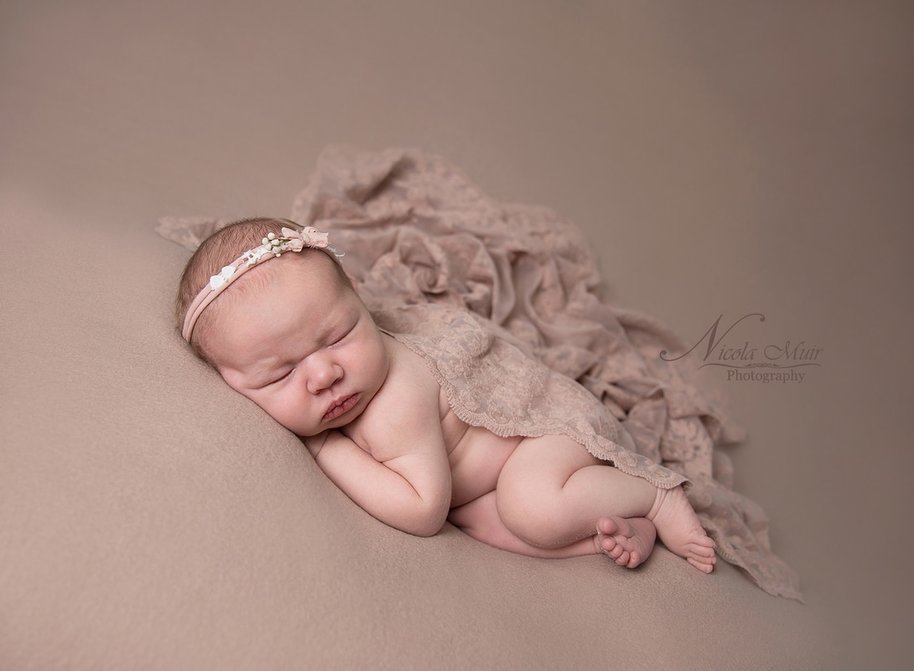 Newborn sessions ideally take place when your baby is between 10-14 days old as this is when they are most sleepy and able to curl up in to those adorable little poses. It is best to get in contact and secure your booking as soon as you can (ideally around the time of your 20 week scan if possible) so that I can guarantee my availability around the time of your due date. This will also give us plenty of time to start making plans for your sessions and how I can tailor it to you in order to create beautiful, timeless Newborn Portraits that your family will treasure. However, do not panic if your precious baby has already arrived and you haven't booked your Newborn Session yet, I can usually always fit in last minute appointments!

Sessions take place in your own home using a small portable studio that will fit in your lounge or dining room, although it may be necessary to move some furniture around. I am usually with you for around 4 hours as the sessions are really relaxed and led by your baby. There will be plenty of time for feeds, cuddles, set changes, and more cuddles to keep your baby nice and sleepy. I advise that it is best to have the whole day free from appointments and visitors, just in case!
I will provide a variety of specially selected fabrics, dainty outfits and props including blankets, wraps, hats, headbands, and posing props like my tiny rustic bed and large selection of baskets etc. I love neutral tones and use lots of vintage inspired props and fabrics but I am happy to work with you to create images that will fit with the decor of your home and your preferred colour schemes. I am also happy to include any personal items if you have a special idea or item that you would like to incorporate, this can be discussed when booking your session. The session will be focused on your newborn, however I love to include siblings and the parents in the shoot as well so it is best to arrange a date for the session when everyone is available.
​
After your session your photographs will receive professional retouching to create beautiful flawless portraits. You will receive a gallery of approximately 30 watermarked proofs around 2 weeks after your session in a private online viewing gallery. The gallery will be available for 3 days so that you have plenty of time to view your photographs and decide how you would like to display your portraits and which package would suit you best.

​Booking Your Session
​
​I would love to hear from you as soon as possible so that we can chat about your specific requirements and any personal ideas that you may have, in order to create a really unique portrait session. So please pop over to the
Contact Page
and send me a message including your due date/ babies birth date, your location and any other details or questions about the session.
Alternatively you can call me (Nicola) on 07825750056 or email info@nicolamuir-photography.com
Once you are happy that I am the Newborn Photographer for you and you would like to confirm your booking, I will email you an invoice for the £50 session fee which will
secure my availability around your due date. I will then wait to hear from you once your little one has arrived, so that we can confirm a date for your session, ideally within those first 2 weeks.
Your Newborn Session includes:
A bespoke Newborn Portrait Session in your home (approx 4 hours).
The photographer's time, creativity, baby soothing skills and lots of patience!
A variety of carefully selected, handmade props, fabrics and outfits for the session.
Use of any personal items if required.
Parent, sibling and family portraits (optional).
Professional editing of your photographs.
A private online viewing gallery for 3 days.
Approx 30 fully edited proofs to choose from.
One social media sneak preview (optional).
*No products are included in the session fee*
Collections range from £250 - £600. Full details of the Collections and A la Carte products that are available can be found on the
Price Guide at the bottom of this page.
---------------------------------------------------------------------------------------------------------
-------------------------------------------------------------------------------------------------------------------------------------------